1-ch Bidirectional 12G-SDI Optical Transceiver
1、Overview
1-ch Bidirectional 12G-SDI Optical Transceiver, manufactured by Beijing HCSTCOM Co.,Ltd, offers unmatched flexibility and cost efficiency for 12G/3G/HD/SD-SDI Fiber conversion, allowing for cable runs up to 10 km (32,808 ft) over standard single-mode fiber optic cable.
FiDO converters use a compact, low-profile enclosure that works well in tight spaces around and behind equipment racks, trucks and on camera.Widely used in radio and television signal broadcast, broadcast car, TV program production and other fields;
2、Product Features
✬ Support 1 channel 12G-SDI to LC single mode optical fiber output, 1 channel LC optical fiber input converter to 12G-SDI;
✬ Support 12G-SDI input and output, support 6G/3G/HD/SD-SDI bidirectional, 2-core fiber transmission;
✬ SFP standard optical fiber connector, duplex connection (LC connector);
✬ 12G-SDI Optical module supports CWDM wavelength optional;
✬ 12G/6G/3G/HD/SD-SDI Bidirectional optical module optional;
✬ LED indicating power and signal input;
✬ Support standard 19-inch 2.5U subrack with 16 slots and 220VAC input dual power supply for redundancy;
✬ 12V DC power input for desktop; External power adapter.
3、Application
TV industry high reliability, high performance serial digital optical transmission equipment, meeting DVB backtransmission and production, on-site production, DVB-ASI transmission, news gathering, live broadcast signal transmission, remote studio, general digital video transmission business, telecom signal transmission.and other business needs.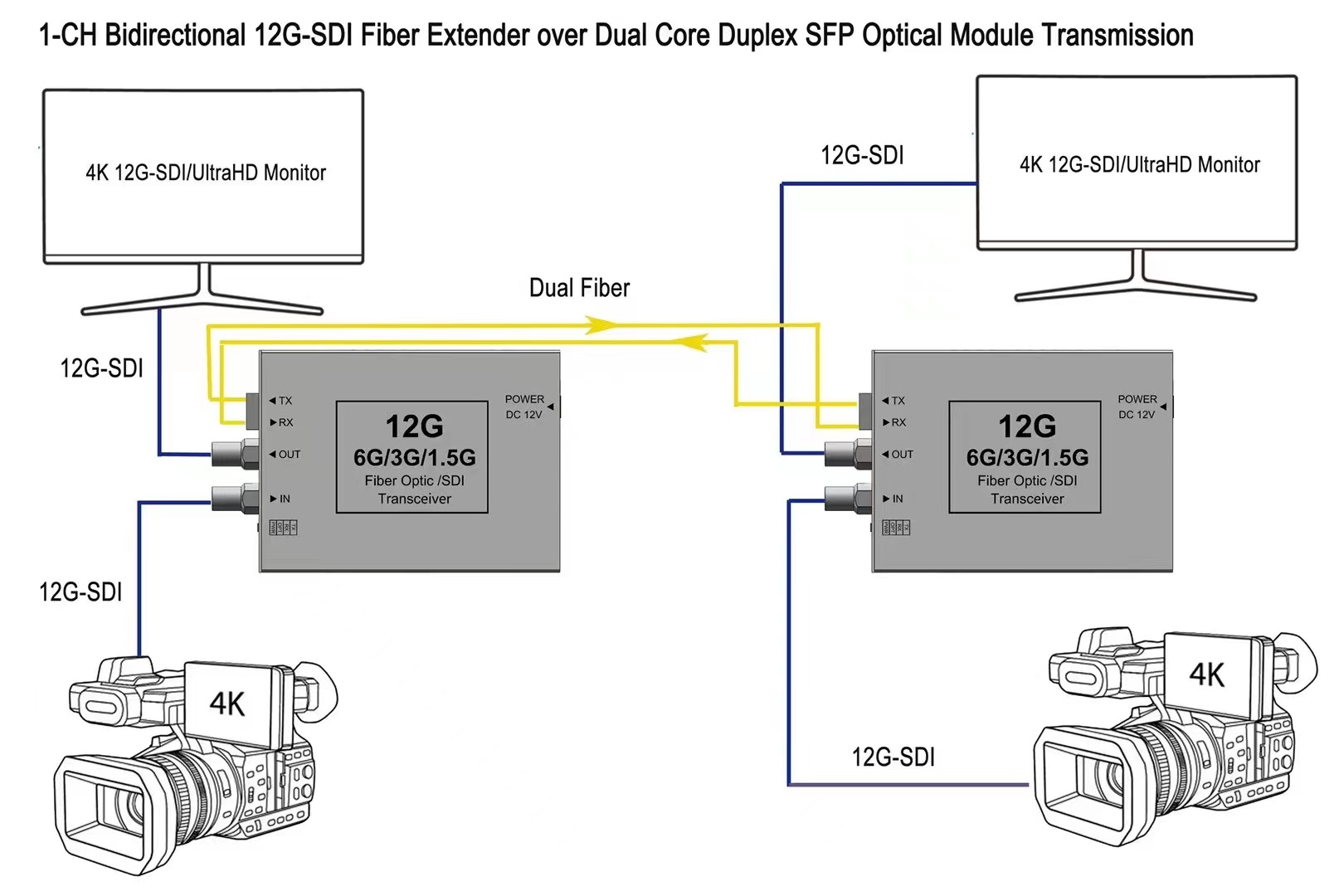 4、Technical Specifications
Video Formats

270 Mbps - 12 Gbps

Video Input Digital

1-Channel Independent 12G-SDI BNC connector, SMPTE-259/292/424/2081/2082

1-Channel Independent Single Mode LC Fiber connector, SMPTE-297/259/292/424/2081/2082

Optical Sensitivity: -10 dBm (min @12 Gbps), -14 dBm (min @ 3 Gbps)

Optical Power: -5 dBm (min), 0.5 dBm (max)

Overload Power: -2 dBm (min)

Extinction Ratio: 5.4 dB (min)

Nominal Wavelength

Tx 1260 nm (min), 1310 nm (typ), 1360 nm (max)

Rx 1260 nm (min), 1620 nm (max)

Video output Digital

1-Channel Independent 12G-SDI BNC connector, SMPTE-259/292/424/2081/2082

1-Channel Independent Single Mode LC Fiber connector, SMPTE-297/259/292/424/2081/2082

Nominal Wavelength:

Tx 1260 nm (min), 1310 nm (typ), 1360 nm (max)

Rx 1260 nm (min), 1620 nm (max)

Optical Sensitivity: -10 dBm (min @12 Gbps), -14 dBm (min @ 3 Gbps)

Optical Power: -5 dBm (min), 0.5 dBm (max)

Overload Power: -2 dBm (min)

Extinction Ratio: 5.4 dB (min)

Reclocking

270 Mbps, 1.483 Gbps, 1.485 Gbps, 2.967 Gbps, 2.970 Gbps, 5.934 Gbps, 5.940 Gbps, 11.868 Gbps, 11.880 Gbps - Auto Select

All other rates are passed through and not reclocked

Size

117 x 43.5 x 21.6 mm (w x d x h)

Weight

0.25kg

Power Supply

6W (max)

12V DC

Environment

Safe Operating Temperature: 0 to 40 C (32 to 104 F)

Safe Storage Temperature (Power OFF): -40 to 60 C (-40 to 140 F)

Operating Relative Humidity: 10-90% noncondensing

Operating Altitude: <3,000 meters (<10,000 feet)