1.Product introduction
HDMI2.0 optical terminal machine developed and produced by Beijing Hcstcom supports optical fiber transmission of 80KM. The product supports point-to-point connection configuration, bi-directional infrared transmission, BI-directional RS232 data, and KVM function with USB interface. Remote control and management can be realized through USB mouse and keyboard. It is mainly used in outdoor advertising, video clips, remote surveillance systems, home theater entertainment, and remote conferences.
2. Product features
HDMI 2.0 standard compatible with HDMI V1.4 and 1.3a;
4K60 4:4:4 image lossless transmission, compatible with 4K30, 1080P and 1920*1200 resolution;
Support two-way infrared transmission, 3.5 interface;
USB mouse and keyboard for remote control and management;
Support RS232 two-way transmission and control (optional);
Products using the latest video lossless transmission technology, high reliability;
Single-mode optical fiber transmission 10-80km, multi-mode 0-2km;
Using CWDM technology, 16-channel HDMI2.0 single-fiber transmission can be realized.
3. Product panel drawing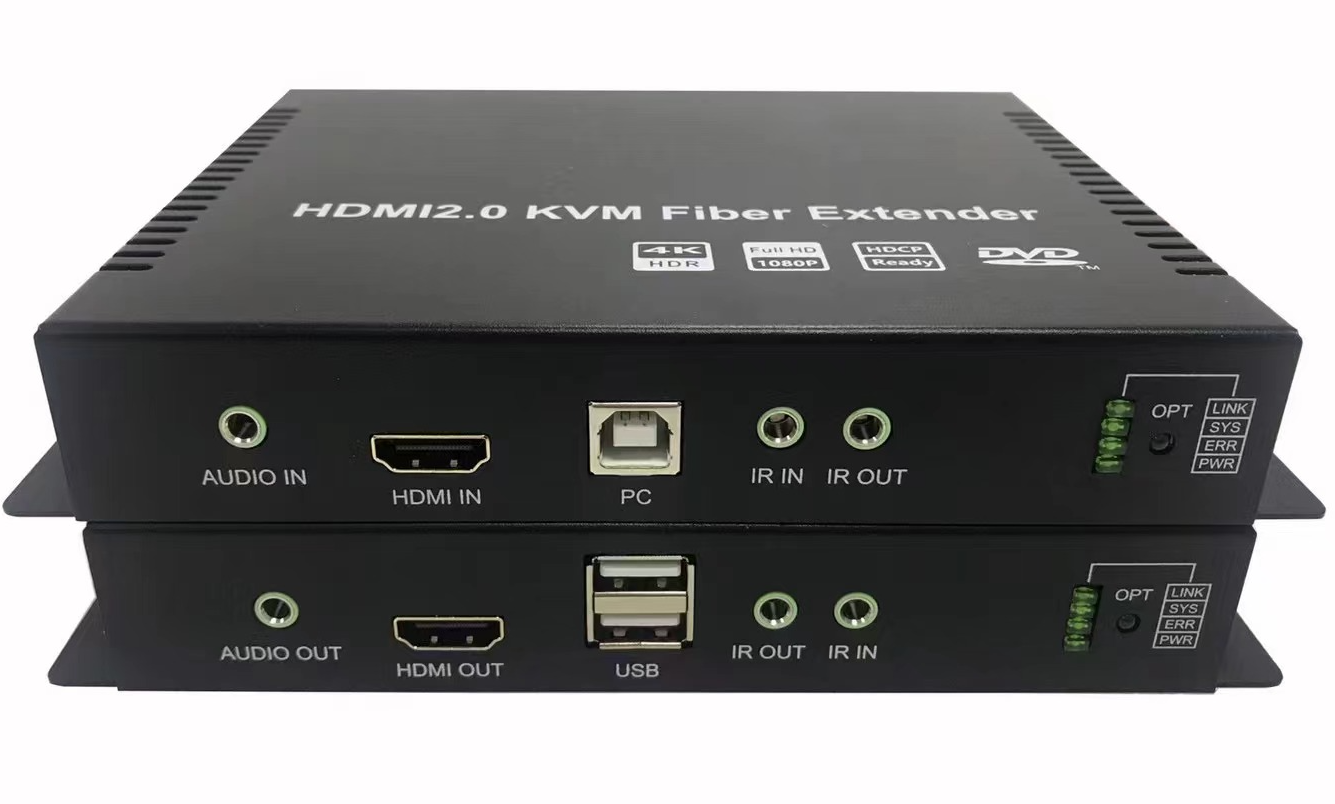 4. Technical parameters
Technical parameter

Transmitter-TX

Receiver-RX

HDMI Version

HDMI1.4 HDMI2.0, compatibility

HDCP Version

HDCP2.2, compatible HDCP1.4

Optical fiber interface

SFP Optical interface(LC/PC)

Wavelength of 1310 nm

Transmission distance

Single-mode 10-80km, multi-mode 0-2km

Video resolution support

1280x960、1280x800、1280x768、1680x1050、1360x768、1366x768、1600x900、1024x768、800x600, 3840*2160 60Hz、1920*1080P 25/30/60Hz

Support for audio formats

LPCM/DTS-HD/DTS-Audio/Dolby Digital 5.1CH

HDR10(YUV4:4:4)

support

EDID passthrough

support

KVM function

USB1.1Mouse、Keyboard

Input TMDS signal

0.7~1.2Vp-p

InputDDC signal

5Vp-p

Input

HDMI INx1,DC2.1×1, USB-A×1 3.5×1

DC2.1×1, RJ45×1, USB-A×2,

3.5×1

Output

RJ45×1 3.5×1

HDMI OUT×1, 3.5×1

RS232

3 pin green terminals

3 pin green terminals

Infrared interface

Bidirectional infrared, 3.5 interface

Bidirectional infrared, 3.5 interface

HDMI Interface

Type A

Mechanical parameters

Transmitter-TX

Receiver-RX

Material

Aluminum alloy

Product size

150.0(L) x 120(W) x 28(H)mm

Net weight

260g

260g

Power specification

12V/1A

12V/1A

Power consumption

5W

5W

Operating temperature

-20~60℃

Storage temperature

-30~70℃

Relative humidity

0~ 90% (non-condensing)